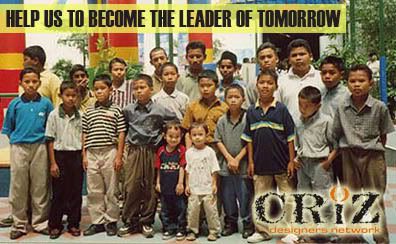 Pikey tagged me for this meme and since it is for charity, I would not mind doing it as soon as I could. This is what it is all about. Idham wrote in his blog post that for every completed meme by Aug 26th 2007, he will contribute RM127 to the Darul Izzah Orphanage, Bangi. If N amount of bloggers have completed the meme, then Idham will contribute 127*N amount of money to the orphanage. I have checked through his blog and he sounded genuine in his pledge.
Below is my meme and the meme is only deemed completed if 17 or more out of the 27 sentences below are completed. The origin of the meme is located here. My meme answers are in red and bold.
1. A person is only as good as clear water if the mind is left uncontaminated with sinful thoughts.
2. Friendship is always about sharing and caring for each other through ups and downs.
3. To love is to be committed and be able to sacrifice for the benefits of each other.
4. Money makes me happy as I can help those in need sparingly.
5. I miss ………….
6. My way of saying I care is by opening my arms to hug the person, giving her the warmth and comfort she needs.
7. I try to spread love and happiness by making others happy.
8. Pick the flowers …………….
9. To love someone is to be able to accept who she is and not what she has become.
10. Beauty is never part of my requirement as the heart matters most.
11. When I was thirteen, what I remember the most was ………
12. When I was twenty one, I remember ………………….
13. I am most happy when I see that there are more smiles amongst my friends.
14. Nothing makes me happier than to be with my loved ones and friends.
15. If I can change one thing, I will change the fate that has fallen upon my Mum.
16. If smiles were ........... then I ...............................
17. Wouldn't it be nice if we could have more peace and less suffering in the world?
18. If you want to .............then you have to ................
19. Money is not everything but it does help in buying food to fill empty stomachs.
20. The most touching moments I have experienced is being able to lend my ears to a person in sorrow and letting her cry on my shoulder.
21. I smile when I know that joy is shared and sorrow is eased.
22. When I am happy, I will make another person happier by sharing my happiness.
23. If only I don't have to ..............., then.........................
24. The best thing I did yesterday was to have learned something useful and share with my friends.
25. If I ever write a book, I will give it this title, "SPREAD LOVE, DESTROY ANGER"
26. One thing I must do before I die is ............................
27. Doing this meme, I feel like I have done my part towards helping those in need.

Well I got a bit carried away and filled up 19 sentences instead. Here comes the tagging part. The lucky tag goes to BenjiPapa, aL, Jessica, Healy, Alvin and K.Kim. After you have completed this meme, please leave a comment at Idham's post so he can keep count of the meme being done.