Dream Works Animation SKG has become a household name for good animation filled with fun and comedic actions. The first thing that will strike your mind would be animations like Shrek, Wallace & Gromit: Curse of the Were-Rabbit, Shark Tale, Over the Hedge, Flushed Away or even Madagascar. DreamWorks' intention was to span generations and capture the imagination of people regardless of their age. It connects with audiences on many different levels.
They have won the first-ever Academy Award for Best Animated Feature Film with Shrek and then another Oscar in 2005 for Wallace & Gromit: Curse of the Were-Rabbit. Shrek 2 ended its theatrical run as not only the highest-grossing animated feature in history but also the third highest-grossing film of all time. The recent release of Shrek 3 has proved that they are gaining more popularity in the animation market. They are also in the process of coming out with Madagascar 2: Kung Fu Panda in 2008.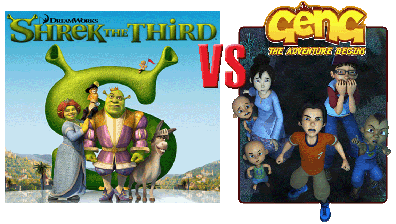 Now many of you guys will be asking who the hell is Les' Copaque? Les' Copaque Production SB is a MSC supported animation company based in Shah Alam, Selangor, Malaysia. It's 100% "BUATAN MALAYSIA". Their ultimate goal is to produce high quality full CG animated film. Their services include 3D animation, modeling, rendering, architecture presentation, commercial, motion graphics, visual effects and game cinematic.
They have a full team of committed, passionate and talented people working under them. Armed with both creative and technical knowledge, they come out with idea development, script writing, storyboarding, character design and directing; followed by modeling, texturing, rigging, animation, lighting, rendering, editing and compositing. They are here to produce high quality output to put Malaysia in the world's animation chart. Hence, Malaysia's first animated movie Geng: The Adventure Begins was released not long ago. The movie is in Bahasa Malaysia but with English subtitle.
So, here are some the movie teasers for your viewing and comparison. Do you think that Malaysia's effort in coming out with a high quality animation can hit the world's animation market? I will leave you guys to comment on that.