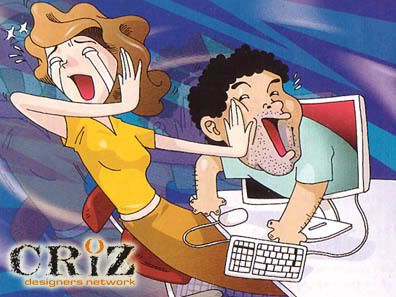 The days of having pen pals and writing letters on those cutely designed "Hello Kitty" letter pads are beginning to creep out of the lives of the new generation of today. We now have the internet where dozens of chatting programs are available and it is free to subscribe too. Chatting live with a person and getting an immediate response have been so common in our lives. Getting to view the photos of the person on the other side is also a norm. What will your first reaction be if you see the person's photo online? Let's do a simple test to see how you will react.
QUESTION:
After chatted with a person for some time and felt that he/she is a nice person. You have the urge to see how he/she look like. When you first saw the photo, you realized that he/she is not the person in your imagination. What would your reaction be?
A. What an ugly face. Faster disconnect. I do hope I not see him/her again.
B. Be right back. I need to go to the washroom. Trying to cool down from the shock before continuing to chat.
C. Not a big deal. Who is born to be perfect? After all, he/she is honest to show me his/her truthful photo.
D. Breathe in awhile and tell the person he/she is ugly directly.
ANSWERS:
ANSWER A: You always fantasized of the rich and handsome/beautiful. When you met with people who are not up to your expectation, you try to skip the reality. You tend to be too direct in many cases and thus hurting the feelings of the person. This is what the society discouraged in a person.
ANSWER B: This is what the society is looking for in a person who will take some time to cool down to have a clear mind before deciding what the next step. Even if your loved ones have irritated you or even did something wrong towards you, you will still think analytically to solve the problems without showing your temper first.
ANSWER C: Regardless of people or situations, you know how to differentiate between fiction and reality. You know how to respect a party without hurting their feelings. In the society, you are sociable, highly respected and liken by others.
ANSWER D: Your action is rather weird. Even though you have a target in life, you tend to go astray most of the time. In fact you are still not mature in the society as you need to polish up more of your human relationship skills. Sometimes how and what you think ought to be kept to yourself. It is the best of all parties.