I AM A BLUE PANDA HOLDER! I HAVE SHOUTED 5000 TIMES!

Ever since joining ShoutOut on 25 June 2007, I have been shouting until I lost my voice. That was just an excuse but it can be quite addictive too. Haha! Well, I would say ShoutOut is the best creation ever in the blogosphere. Not only did ShoutOut create LIVE chats amongst the bloggers, it also created a big, cool, and happy family for all those bloggers out there. There is always the caring and sharing within the family members.
Originated from Penang for Malaysian bloggers, ShoutOut has steadily expanded to many states as well as countries. We now also have shouters as far as Singapore and Holland. I would to take this opportunity to thank Lasker and Elise, the masterminds behind this wonderful creation and also to those shouters members who had made me feel very comfortable with their companionships throughout this short duration. You guys ROCK!
Here are the PANDA WALK OF FAME recipients:
First Panda Holder – Chee Hsien
Quiet in nature but once you get him a camera and an internet connection, he can be a hyperactive guy busy camwhoring and shouting, even in his sleep. .

Second Panda Holder – Angeline Tan
She is a cool and happy-go-lucky girl. She can shout so loud that everyone will just stop there and then to listen to what she has to say. She is now based in KL for further studies and we all do hope that she will get her internet connection up in no time to continue shouting. We all miss you Angeline.

Third Panda Holder – Adelene Tan
This one is really Beep Beep the Roadrunner. She can shout so much that we hardly realized that she had moved so far up in the ranking. I always call her a BRAT not because she is such a rascal. BRAT as in Beautiful, Romantic And Talented.

Fourth Panda Holder – Minny
This is the hottest and sexiest mummy of ShoutOut. She loved camwhoring just anywhere, even in the female toilet. I just wondered why ladies like to take so many photos in the toilet. Haha! She is also a naturally born Shopaholic. If you want to know where can get good stuff and offers, she is the MAN (in a woman's body…haha!)

Fifth Panda Holder - BenjiPapa
A bachelor still even though he has the nickname of BenjiPapa, can be such a joker at times. He looked quiet too in person but can be a loud shouter when he is in ShoutOut. He is a handsome guy and you girls out there who would want a good boyfriend, he is the best candidate. Move fast now before you end up getting only his underwear left. Haha!
Sixth Panda Holder – Criz Lai
Well, I have not much to say about myself except that I am a real panda in life. I hardly sleep with a hectic work lifestyle. See me and you will see the two big black panda rings I have on my eyes. I am wild but huggable and most of the time, you will end up the trees or stuck to the wall with the joke I tell.
SHOUTOUT CAMWHORING SESSION WITH SUPPORTERS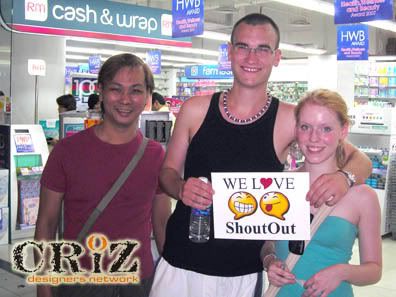 Ben and Maria from London share the same interest in blogging

Two new persons in the blogosphere, Lily and Eng supporting ShoutOut

JJ and me, supporters of ShoutOut