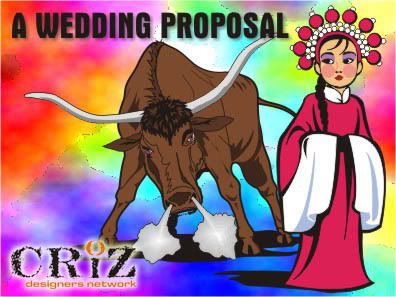 Firstly, I would like to introduce Penang. It is one of states in Malaysia where most of the Chinese people converse in Hokkien. Food plays an important part in the Hokkien community. They have food such as the Hokkien Mee (Prawn Noodles), Hokkien Char (Stir Fry Yellow Noodle), Hokkien Lam Mee (Birthday Noodles) and so on.
In the Hokkien community, there was a family selling Hokkien Mee as their livelihood. In the family, they have a son named Ong Da Niu. Da Niu or "Big Bull" as his family called him was a very intelligent person. He has all the qualifications and experiences and excelled in whatever line of work there were available in the market. He was the top of the cream and time was never sufficient for him.
With his busy daily schedule, Da Niu tended to forgo what was important in a typical Hokkien family. That was to set up a family to carry on with the surname. His parents began to get worried as age was beginning to catch up on him. When it was time for Da Niu to get married and his parents asked him, "Son, you are getting old and when are you going to find a wife?" Da Niu replied, "Lazy find lar. You go find one for me."
His parents quickly draft out an advertisement, inserting all his qualifications, experiences, etc. Since they are an English educated family, they placed the long advertisement the next day in The Star Newspaper and News Straits Times for 3 continuous days. They waited anxiously by the telephone each day for the wonderful news but surprisingly no one responded. The following week, his parents placed a bigger advertisement this time and yet they did not even get a response. This went on for a month and they decided to go to China to source a wife for Da Niu.
In China, they went to the province of Fujian where there are lots of Hokkien ladies. They translated the advertisement and distributed the printed flyers to the people there. After a few weeks, there were still no response from the locals. His parents were confused over the reason why no one was willing to marry their son. Finally, they concluded that their advertisement might be too perfect for anyone to believe and decided to summarize it. They then place a large advertisement in the local newspaper. It read as this: "WEDDING PROPOSAL- DA NIU BI JIAO LAN-CALL XXXXXXXXXXXX" since Da Niu is so lazy to find a wife. By the way, "Da Niu Bi Jiao Lan" means "Big Bull is a little bit lazy". They next day, bus loads of ladies from all over China came for the interview. There were so many ladies that Da Niu's parents could not decide the best lady for their son.
Out of curiousity, they asked one of the ladies for her feedback on the advertisement. They had a laugh of their lives after knowing the reason behind the advertisement. You see, in Malaysia Chinese is written from left to right whereas in China it is the other way round.
Instead of reading as DA NIU BI JIAO LAN (大牛比較懶), it read as LAN JIAO BI NIU DA (懶較比牛大) meaning in Hokkien that "The Penis Is Bigger Than The Bull's". No matter what happened, Da Niu finally got married to a Chinese national. I do not have to tell you the reason; you should be able to guess it right? Haha...