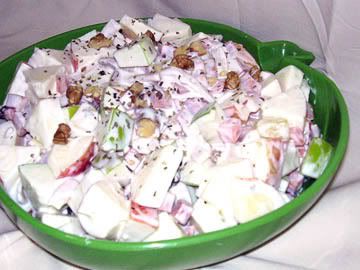 Pitter patter…pitter patter…It was raining heavily outside and I felt rather dizzy to go out to get my dinner. Moreover, I'm down with a fever and to get drenched means I'll be in worst condition than I'm in now. Finally, I have decided to make do with what I have left in my refrigerator. I ended up making apple salad. The ingredients are shown as below: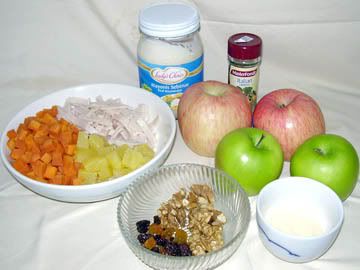 Ingredients:
2 green apples (cut into thin slices)
2 red apples (cut into thin slices)
1 large carrot (diced and boiled)
3 pcs of chicken ham (cut into 1" strips)
200 gms of canned pineapple (diced)
100 gms of mixed raisins
150 gms of walnut (break into small pieces – leave some for topping)


Dressing:
7 Tsp mayonnaise (Lady's Choice)
2 Tsp milk powder
3 Tsp water
Some pepper
Some Italian Mixed Herbs
Pinch of salt

Mix all the ingredients in a large container. Whip the dressing in a bowl thoroughly before pouring into the container. Stir well. Place the mixed fruit into a large bowl. Chill it for about 30 minutes. Sprinkle the balance walnut and some Italian Mixed Herbs before serving.
(Serves: 4)