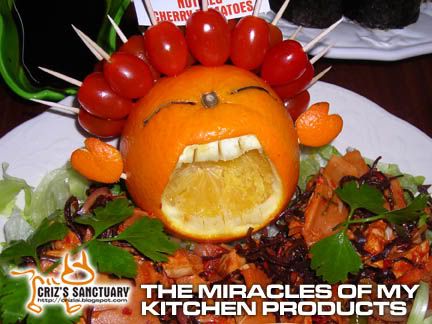 Whipping up something delicious and presentable will not be easy if you do not have the necessary kitchen utensils to assist you. Just look at the example of the Ms Orange Tomato Head I did for the
3rd Penang Floggers Potluck Gathering
last weekend. I would not have carved out such a creative composition without my favorite
carving knives set
. Moreover those tiny little cherry tomatoes needed a small slit to stuff in some nutmeg strips.
If you study carefully at one of the dishes served which is the Spicy Chicken & Abalone Salad, you would see that there has been a lot of fine slicing of ingredients such as kaffir lime leaves, shallots, wood ear fungus, ginger flower and more. Thanks to my Japan made
Kyocera Slicing knife
that made my life easier. Without its sleek and ultra sharp blade, it would take me hours just to get those ingredients sliced to my preferred size.
Many people would think that by getting a daily use knife can make wonders in all type of situations. You are wrong. Each knife has its own usage when it comes to cutting, slicing, chopping or even carving. I bought mine through one of the online shops and those
knives
have been serving me for years without any disappointment at all. I guessed it pays to get the best amongst the rest.