Note: This article should be highlighted no matter how busy you are.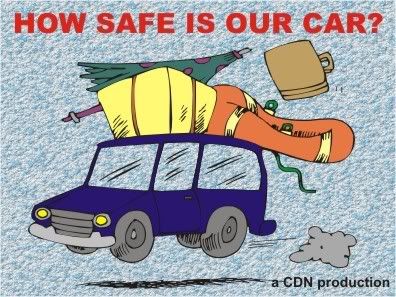 It has been known that almost any objects surrounding you could be a deadly weapon. How many of us realized that? We usually go on with our daily lives, thinking that accidents might not happen to us. No matter what, a little bit more of precautions would not hurt us a bit.
Let us look at a sample case of a family outing. The one year old car has the latest safety features and has not missed a single scheduled servicing at the workshop. A young couple decided to take their 10 months' old baby out for a stroll in their car. They are confident it will be a safe trip.
They did not consider what were on the back-seat floor or in the cargo area. Although they were buckled in, they have a baby pram, water bottles, a mobile phone and bags of groceries, just to name a few items that might go along for the ride. Nobody gave them some thoughts. Why would they? Tens of millions of autos on the road today, just like his, have crash tested well and feature air bags and antilock brakes, giving the driver a sense of safety on the road. Yet speed limits have risen and SUVs and MPVs have multiplied. Meanwhile, people have turned their vehicles into second living rooms where hidden dangers abound, from a plastic card on the dashboard to tennis racquets and golf clubs in the back. In a crash, any of these objects could turn into a deadly projectile.
The automotive industry has known about this for years, warning that passengers and drivers could sustain serious injuries from unsecured cargo. "In one test, the laptop computer flew forward, striking the driver, who would have been killed by massive skull trauma and brain injury,'' says TNO UK's safety expert David Moseley. ''The baby pram cracked into the head of the front-seat passenger, causing serious, possibly fatal injury.''
The accident figures in Asia are no less sobering. According to the Royal Malaysian Police, in 2006 some 1215 drivers and passengers lost their lives; another 1589 were seriously injured. A spokesman from the US Highway and Auto Safety said that loose cargo and unbelted riders are safety issues that drivers overlook. ''We're losing more lives and suffering more injuries than we realize.'' Did those collisions result in serious injury? Not necessarily. It is the loose objects that created additional risk.
Anything has the potential to cause injury or death, even a Touch 'n' Go card or a credit card. In an accident, a credit card that was on the dashboard struck the young man n his neck. He was a passenger sitting at the back. Luckily, that was a minor injury. In a crash, any object with an edge can become a blade. Blunt objects can become sledgehammers. People are largely unaware of what can happen in collisions. The forces are extreme. After the collision outside, there are always collisions inside. Both can wreak havoc.
No matter what, check your car regularly. Do not leave any unnecessary loose objects in your car. Anything can happened when you least expected. I read about car safety quite often but why were all these never even mentioned in the safety guidelines when we apply for a license or even purchase a car? I have a habit of keeping the car interior clean or else do you think I would have survived this crash while coming down from Cameron Highlands?